Slide
Slide

Slide

Slide

Slide

Slide

Slide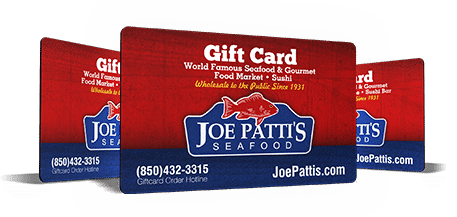 Gift Cards
---
A great option for a gift, anytime. It doesn't matter if you live down the street or across the country. Use the gift card in-store or call our gift card hotline during store hours and we can custom pack and ship your order.
Fresh is Best.
We offer the best and freshest seafood in the world, and we can ship it directly to you. Our online seafood market offers Florida seafood as well as seafood items from the Northeast and Northwest such as lobster, swordfish, salmon, and dozens of other fresh choices.
Customers & Friends.
Joe Patti's has become a Pensacola destination for those who seek quality seafood and friendly service. People visit from all around the country because they know that here at Joe Patti's Seafood they will find the best.
Friends of Joe Pattis
A Few Great Businesses Around Town