Slide
Slide

Slide

Slide

Slide

Slide

Slide

We Are Hiring, Click to Apply Now.
Yes we a Hiring, Join our Team. We have a variety of positions available. We will review your experience history and see if there is another position available that may suit you.
Joe Patti's is a Pensacola Landmark, a World Renowned 'Foodie' Travel Destination.
Whether packing the cooler for a picnic, passing thru and you need professionally packed seafood for the road, or filling the fridge for a backyard bash.  We are your everything-you-need, one-stop-shop for fresh seafood… and so much more. 
We offer daily fresh catch of snapper, grouper, catfish, flounder, amberjack, tilapia, lobster, shrimp, famous 'Royal Red' shrimp, and then some. Countless other options, including "We'll Heat 'Em, You Eat 'Em" steamed shrimp. Amangiari's Gourmet Shop, new new items arrive weekly, including La Quercia Nduja (spicy salami) as well as sliced prosciutto, speck, picante prosciutto, all American-made!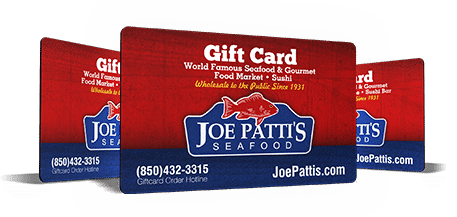 Gift Cards
---
A great option for a gift, anytime. It doesn't matter if you live down the street or across the country. Use the gift card in-store or call our gift card hotline during store hours and we can custom pack and ship your order.
Fresh is Best.
We offer the best and freshest seafood in the world, and we can ship it directly to you. Our seafood market offers Florida seafood as well as seafood items from the Northeast and Northwest such as lobster, swordfish, salmon, and dozens of other fresh choices.
Customers & Friends.
Joe Patti's has become a Pensacola destination for those who seek quality seafood and friendly service. People visit from all around the country because they know that here at Joe Patti's Seafood they will find the best.
Friends of Joe Pattis
A Few Great Businesses Around Town